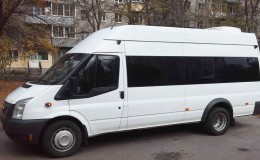 Order a Ford Transit bus 18 seats + driver. (Possibly with a trailer). Our transport is often ordered for trips to the mountains or to the sea. Minibuses with the name Ford Transit are often referred to as larger vehicles. That's why they're called buses. They are designed to carry a large number of people up to 18 people. This is a more modern and comfortable version of the bus, which is additionally equipped with air conditioning, a small TV. (Which is sometimes important).
Ford Transit bus with trailer. For transportation of tourists with backpacks, ski equipment (skis, snowboards), passengers with large bags. On long-distance trips, this bus can be used with a trailer. Attention! You can't load a large group of people with backpacks or skis without a trailer! Please specify the need for a trailer in advance.
A great choice of transport for group trips for the summer or on holiday with the greatest udobstvami. However, it is not quite suitable for transporting people to the mountains on very bad roads. First of all, it is an expensive repair. (And therefore the services of Ford Transit minibuses or similar Mercedes Sprinter are much more expensive than domestic cars). And they will be able to pass only where there is a stony hard surface of roads. In other cases, we will have to use 2 types of transport at the same time for delivery to hard-to-reach places. The first is for a long-distance trip with convenience, and then for a trip to the mountains 4*4 all-wheel drive SUVs.